Shop your luxury high end curtain panels from our workroom with fabric from Colefax And Fowler Somerton Curtain with Cut Ruche old blue along the base . Available in 3 gorgeous colors. Order fabric sample first if you wish (SEE OPTIONS). We are happy to help you select coordinating and contrasting fabrics to work with these curtains for your home decor and color schemes.
Curtains/Draperies in Colefax & Fowler Somerton fabric with a multi moss fringe along the base
WINDOW SIZE ON THIS ORDER: 82" WIDE X 9'H / CALL US FOR HELP WITH YOUR CUSTOM ORDERS
Don't see what you require? i.e. window size; width and length? Contact us for your custom sizes 203 998 7770
Available x 3 Colors: Tomato, blue F4741-03 / Pink,Green F4741-02 / Coral, Aqua F4741-01
Curtain shown in Color Pink, Green
Moss fringe along base of curtain / OTHER COLORS AVAILABLE IN THE CUT RUCHE MOSS FRINGE
Curtains are also available without the trim with a $500.00 reduction
Other contrasting bindings available to compliment other color choice for red, red green and old blue
Curtains unlined, lined, blackout lined and lined & interlined
Sold as shown in photo 1 Pair of 2 width curtains (2 width on either side of window) with trim
We do offer curtain hardware in metal and decorative wood poles or curtain tracks. Call to discuss.
Other sizes and available custom so please call us to discuss your curtain and drapery needs
Measure and install services available if required.
Fabric $238.00 PER YARD included
Item No: CURT-F4741

Shipping May change depending on destination States
Brand: Cowtan & Tout
Category: 40% Acrylic, 32% Linen, 28% Cotton, Ground: 55% Linen, 45% Cotton
Item Number: F4741

Colors:
Contents:100% Linen
Width: 51.25"
Repeat: Vertical: 30.75" / Horizontal: 25.50"
Pattern Book: BELVEDERE
CURTAINS SHOWN IN SOMERTON FABRIC Color Pink, green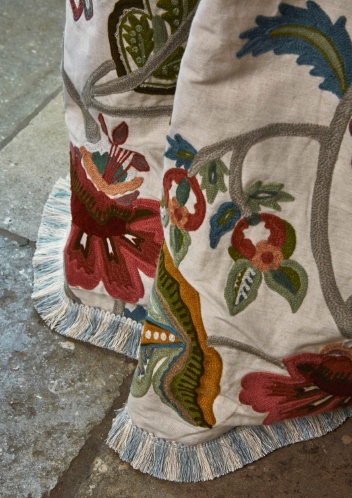 MOSS FRINGE ON BASE OF CURTAIN COLEFAX & FOWLER CUT RUCHE Color 5443-05 OLD BLUE $60.00 PER YARD INCLUDED